Black & White Roasters' Journey with CropConex: An Interview with Kyle Ramage and Matt Ferraro
At CropConex, we're all about connecting passionate coffee buyers with exceptional Ethiopian coffee exporters and producers. We've done the hard work to defy the standards of the coffee trade, allowing small Ethiopian producers to participate in a market typically dominated by larger stakeholders. We are actively creating a future where the specialty coffee sector is fully traceable and efficient in a system filled with regulations and complexities. Buyers like Black and White Coffee Roasters, renowned for their innovation and dedication to excellence, are at the heart of making this idealistic transaction a reality. 
We had the opportunity to sit down with Kyle Ramage and Matt Ferraro from Black and White Coffee to hear about their experience sourcing coffee through CropConex. For them, seeking out captivating coffees from around the world is a fundamental part of their strategy. 
Kyle, co-founder of Black and White, explains their approach, "Our overarching strategy for coffee sourcing is to just source the most beautiful and interesting coffees from around the world. It's a thing that we utilize a lot to kind of destigmatize some of these maybe odd processing methods or things that may be kind of off limits for other people. The overarching motto here is if it tastes good, it is good."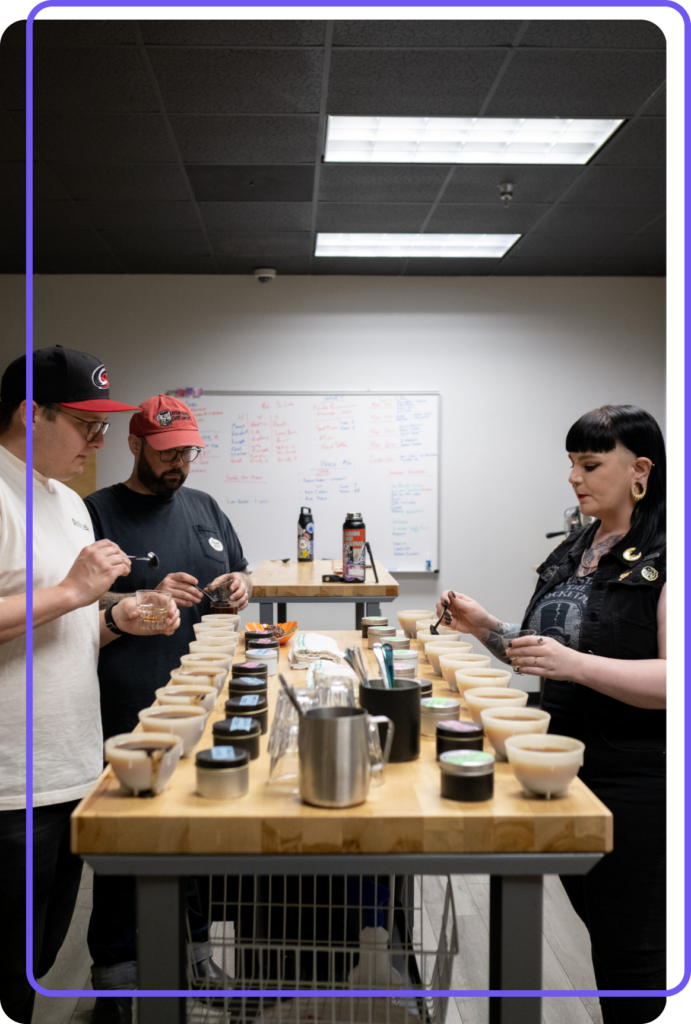 Kyle Ramage (Left) and Matt Ferraro (Middle) of Black & White Roasters cupping with Rachel Apple (Right) of CropConex.
When Kyle and Matt discovered CropConex, they were intrigued and decided to explore the marketplace with the help of our in-house sourcing expert Rachel Apple. They cupped several coffees and discovered an Anaerobic Natural coffee from Dara Coffee Exporters PLC that perfectly aligned with their menu. "The coffee is incredibly complex and I think pretty loud, juicy and has a really great arc of flavor from beginning to end, from hot to cool and the way it transforms.", Matt describes.
After selecting the coffee, Black and White secured a direct contract through the CropConex platform with the exporter for a lot of fifty bags. Within days, the CropConex team in Ethiopia ensured the coffee was meticulously milled and sorted, packed in Grain Pro bags with great care, and sent video updates to the team at Black & White.
Matt, who managed the purchase, mentioned, "One of the most memorable moments in this process was receiving video updates from the dry mill. I loved seeing that kind of information and transparency, and it was really fun for the whole team." 
Matt emphasizes the communication and marketing benefits of the CropConex platform. He notes, "The updates from the CropConex team were great. We were able to keep our marketing team informed about the coffee's progress and arrival." Real-time updates enable roasters like Black and White to plan their marketing strategies effectively and generate anticipation among their customers.
The on-the-ground presence and quality control at origin provided by CropConex added an extra layer of reliability and trustworthiness.
"Having people on the ground and knowing that the coffee we cupped and sampled is exactly what we're getting builds a strong connection and confidence."

Matt Ferraro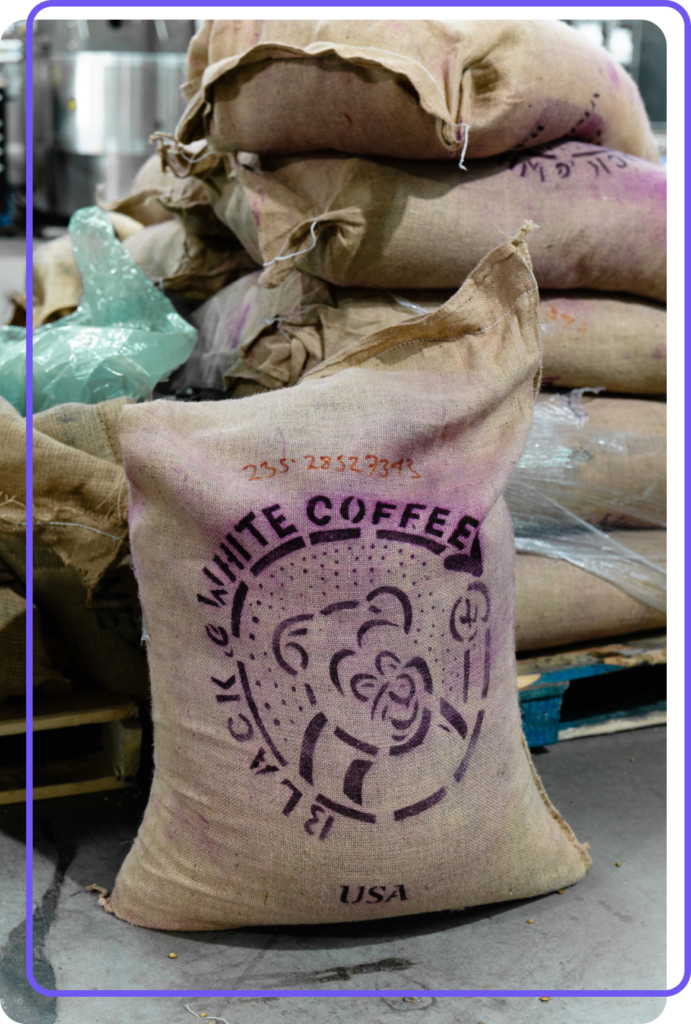 To prepare for transport, the coffee was first milled, then packed into grainpros, and finally placed into custom burlap sacks with both Dara and Black & White's bagmarks hand painted on every 60kg bag. The very next day after being dry-milled, this lot was swiftly transported to the United States via a groundbreaking partnership with CropConex's commercial airline partner that dramatically reduced airfreight costs below 1.30/lb.  Matt & team were able to follow along with real-time milling, transport, and shipping updates via the CropConex platform throughout the process.
Four weeks after cupping the coffee for the first time, the highly anticipated moment arrived as Black and White excitedly welcomed the green coffee shipment directly into their roastery in Raleigh, North Carolina. 
Kyle shares, "We just saw an opportunity to get a coffee moving relatively quickly directly to our door in a way that we didn't think was going to be quite possible. And so to be really one of the first to market with a high performing natural Ethiopian lot, that was just special."
Another aspect that stood out to them was CropConex's commitment to transparency. The platform fosters direct trade relationships and ensures clear communication throughout the coffee journey.
"It really just opens up avenues for collaboration and connection globally, which is a fascinating opportunity."

Kyle Ramage
Black and White Coffee Roasters' experience with CropConex is a testament to our shared commitment to quality, traceability, and collaboration. We take pride in playing a role in their journey and are excited to continue connecting passionate coffee buyers with extraordinary Ethiopian coffees through our marketplace.