Innovation is in the Air: Redefining Specialty Coffee Shipping with CropConex and Commercial Airlines
At CropConex, we are forging new paths for sellers and buyers to engage with the coffee supply chain. We persistently confront and overcome the regulatory hurdles that have historically hindered these efficiencies, driving progress at every step of the way. Our partnership with Ethiopian Airlines is an example of this, utilizing commercial airline partners to transform the way we think specialty coffee can be shipped.
As the specialty coffee industry embraces the concept of air freighting coffees in smaller volumes, the magnitude of this approach becomes more apparent. Brianna, CEO of CropConex, emphasizes this, stating:
Air freight completely revolutionizes the way we trade coffee. It enables us to preserve quality, unlock easier access to micro-lots, and foster de-risked direct trade relationships.
The collaboration with Ethiopian Airlines was born out of a shared interest in exploring new shipping options. Brianna explains, "Ethiopian Airlines has a new e-commerce interest. We saw it mutually beneficial to develop a relationship of aligned incentives for advancing the Ethiopian economy."
We are on a mission to reshape the coffee trade landscape by challenging industry norms and empowering smallholder producers, ensuring their rightful participation in a market traditionally dominated by larger players. "We're re-thinking the way people buy, sell, and move coffee internationally. It's risky, expensive, and complicated. How can we help make quality products more accessible from new and undiscovered reliable partners?" adds Brianna.
This partnership addresses a key challenge in the specialty coffee industry—access to reliable and affordable shipping options. Buyers can now access Ethiopian air freight under $1.30/lb (a fraction of the cost) enabling better capital utilization and a more "liquid" supply chain. "Better capital utilization because your investment assets aren't tied up on a boat in the middle of the ocean, you can access and use it faster," explains Brianna.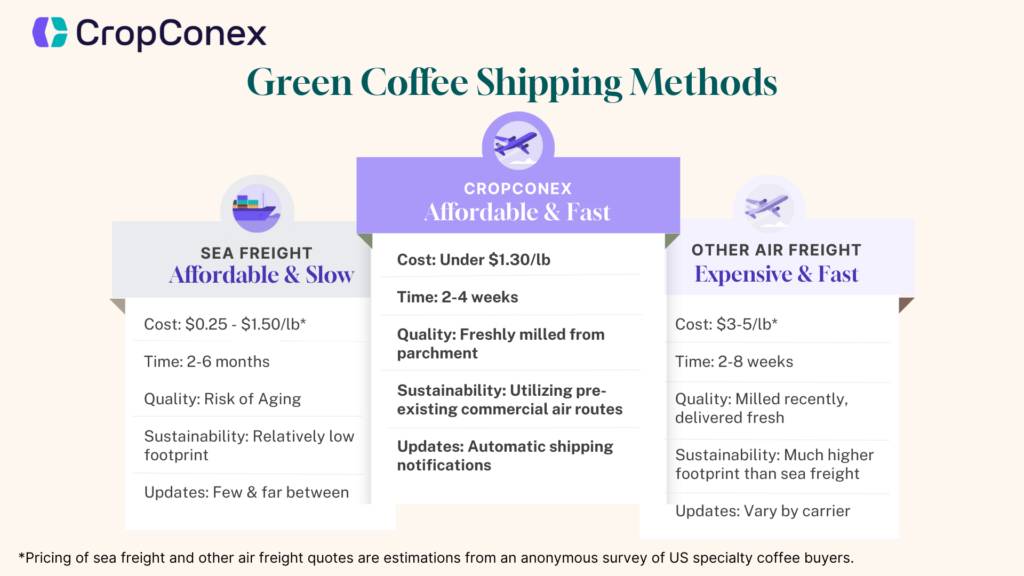 Speed is a remarkable advantage of this collaboration. With Ethiopian Airlines' efficient logistics, coffee shipments can be scheduled a week in advance, with a 24-hour lock-in and same-day delivery. The maximum volume that roasters can ship is 3,000kg per flight, and CropConex can accommodate any volume by arranging multiple flights. Daily flights between Newark and JFK, with additional destinations in Washington DC and Chicago (with Miami route operating soon), ensure swift and reliable transportation.
Regarding environmental sustainability, Brianna shares how working with a commercial airline sets this transaction apart, "Airplanes have some dense carbon emissions that I know everyone is cautious of. But these flights are passenger flights. Meaning, they will be en route regardless. We're just bidding on the free cargo space in these passenger flights to make better utilization of free space."
Looking ahead, this partnership with Ethiopian Airlines is just the beginning. CropConex is actively exploring collaborations with additional airlines, which will expand the number of destination cities and ultimately reduce delivery costs for buyers.
As we continue to revolutionize coffee shipping through strategic partnerships, CropConex remains committed to overcoming systemic challenges to provide optionality to sellers and buyers. Stay tuned for more updates on our progress, and we invite you to explore our marketplace to cup our wide array of Ethiopian offerings.